Cisco Live 2023 Blogging Contest
I obtained the 3rd place at the pre-Cisco Live blogging contest, for this page: https://aboutnetworks.net/clus23/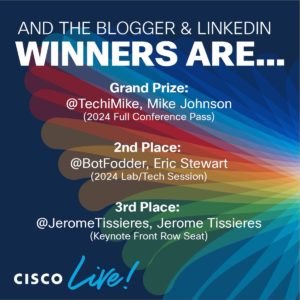 Cisco Live 2022 Blogging contest
I obtained the 2nd place at the pre-Cisco Live blogging contest, for this page: https://aboutnetworks.net/clus22/
IT Blog Awards
The IT Blog Awards, hosted by Cisco, aims to celebrate and recognize independent technology content creators for the inspirational and educational blogs, podcasts and videos that are created throughout the year.
My blog AboutNetworks.net is a Top-50 winner in the 2021 IT Blog Awards: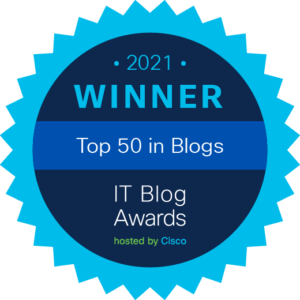 My blog AboutNetworks.net has been selected four times as a finalist in the IT Blog Awards:
In 2021 in the Best Blog category.
In 2020 and 2019 in the Most Educational category

–

 

Shares great tips, tricks, or how-to's to help you learn something new or further your understanding on a topic.
In 2018 in the Best Cert Study Journey category

–

 

provides useful insights into the need-to-knows throughout a certification study journey.